The Road To Mar Moussa Al Habashi -2-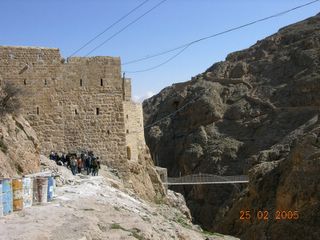 Al Nabek (Qalamoon Mounts)
And here it is, who expected it will look like that?
Mar Moussa knew where to build such monastery, an isolated place, calm, and you can't reach it by any vehicle.
We encountered faithful young Christians in every cave around it, some were writing, some were thinking and others choose to pray and serve the monastery in the few days they want to spend there. i didn't see a lot of fras and fathers, it was like the place was runing by itself!
Such an interesting place..
but what's behind the old and poor looking from outside?
to be continued........
Posted by Hello